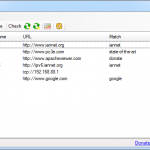 SiteMonitor Lite enables basic monitoring  of your websites/hosts at regular intervals and notifies you when they are down. SiteMonitor Lite checks at fixed timed intervals that your website is still functioning correctly.
SiteMonitor Lite is very basic and does not offer the flexibility that SiteMonitor Enterprise offers. For professional web server monitoring and reports it is suggested to use SiteMonitor Enterprise. You can also compare the differences here.
To download SiteMonitor Life for free click here.
SiteMonitor Lite Features
Ping Web Site
Ping Host (ICMP Ping)
Check that returned content is correct
Minimize to Tray
Launch on Windows Startup
Checks if Internet Connection is available
Send email notification on failure (using SMTP or GMail/Google)
Monitor more than 8 websites *
Response Graphs *
Send SMS Messages using Clickatell or BudgetSMS *
* SiteMonitor Lite is free however feature is only available with a valid unlock code.
It is important to note that SiteMonitor Lite requires a user to be logged into the PC for it to monitor. SiteMonitor Enterprise on the other hand runs in the background even if no user is logged in.